TRESU H5i G3: High performance circulation for special applications:
High viscosity, high pressure, high flow, high speed or high temperatures.
Based on 40 years of proven performance TRESU developed the new modular platform for the L series coating circulators and H5i G3 is the latest edition - and furthermore features the ability to control special coating applications and special demanding circulation tasks with high viscosity, high pressure, high flow, high speed and high temperatures.
H5i G3 empowers sheet-fed and web offset printers to benefit from efficient high quality coating with no risk of air, micro-foaming or blisters. Even special offset coating applications now gain from more efficient use of resources and less waste.
With H5i G3 controlling your WB, UV or e-beam coating application, you can now save resources and exploit the full creative potential of the coating media for eye-catching designs and strong branding.
With TRESU's HMI with intuitive graphical user interface operators' start up times are optimized with fast and easy guidance to basic start up and operation commands and the ability to access a range of automated operation modes as well.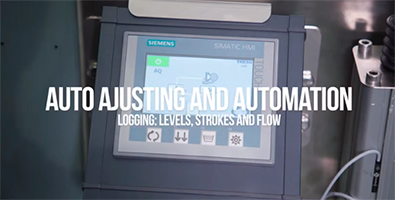 H5i G3 main features:
High viscosity, High flow, high pressure, high speed or high temperatures

Uv, WB or e-beam

Flow CONTROL AND PRESSURE CONTROL FOR AIR AND MICRO-FOAM ELIMINATION

SPOT OR FLOOD COATING FOR DEMANDING COATING TASKS WITH HIGH OEE

DUAL PUMP CIRCULATOR WITH AUTO ADJUSTING AND AUTOMATED OPERATIONS

1" HOSES WITH SHORT DISTANCE FROM CONTAINER TO THE CHAMBER DOCTOR BLADE SYSTEM

SEMI AUTOMATIC CLEANING - LANSES CHANGED MANUALLY
Read more about TRESU's Pressure Control Technology and how the enclosed circulation from the bucket to the chamber, eliminates micro foaming and produces less waste from more volume - in most existing production setups.
DATASHEET
H5i G3
Coating Circulator

ANIMATION
L SERIES COATING CIRCULATORS

ANIMATION




Pressure Control Technology




MP4

MP4
TECHNICAL SPECIFICATIONS

DIMENSIONS

H646 x W563 x D684 mm | 25 7/16" x 22 11/64" x 26 59/64"

WEIGHT

90kg | 198.4 Pounds lbs


AIR SUPPLY

Min 6 bar – max 10 bar, clean and dry

AIR CONSUMPTION

140 L/min

WATER & DETERGENT CONSUMPTION

5 - 25 L per cleaning cycle - depending on the characteristics of each individual installation

TRESU PRESSURE CONTROL TECHNOLOGY

0 - 500 mbar

VOLTAGE

120 - 230 / VAC 50 - 60 Hz

POWER

0.15 kW

PHASE

L + LN + PE

MAX FUSE

10 A

MAX FLA

1.2 / 0.67 A

SITE TEMPERATURE

15 - 40°C | 59 - 104°F

SITE HUMIDITY MAX

80% Rh

CIRCULATION CLEANING TIME

5 - 15 min

COATING TYPE

Aqueous, E-BEAM or UV-coating

ALARM SYSTEM

Standard

FURTHER OPTIONS

Pressure control technology


IR sensor measuring on anilox roll

High/low alarm levels in buckets and tray

Refill system functionality

Chamber position sensor

Chamber ON/OFF function from HMI

Print flow sensor

Extra operator panel