TRESU SAVEink.
High-performance fast change inking system.
The TRESU SAVEink chamber doctor blade is designed as lightweight fast-change inking system for narrow web flexo printing to help you achieve optimum performance of the printing without using an ink pump. With shorter runs and faster turnarounds, label converters are under increased competitive pressure to eliminate waste.
TRESU's single-component SAVEink system makes an attractive option for an efficient label printing workflow, with its fast setup times, minimal maintenance requirements and capability for consistent quality at high speed. With a short return on investment, the benefits of the TRESU chamber doctor blades are a viable and value-adding alternative to investing in a new press.
With the doctor blades in a pre-set position there is no need for further adjustment. The pre-set position ensures optimal anilox contact with minimal wear. An automatic indicator shows when blade replacement is necessary, so time is not wasted on unnecessary checks. Since the chambers are sealed with the patented TRESU seals, there is no risk of ink contamination and optimal pressure is maintained, to ensure foam-free printing meeting the demands of high speeds in narrow web. Available in widths up to 800mm, the TRESU FlexiPrint Reservoir SAVEink chamber may be fitted to almost any narrow web press.

Mechanical chamber positioning system

Easy load cassette: No circulation pump needed.


Cassettes filled manually and stored with remaining ink (250 ml - 2,000 ml)

Safely removal in 5 seconds without ink return

Standardized, compact design with excellent price-performance ratio and low Cost-to-Print (CTP)

Patented TRESU E-Line quick clamping system with the fastest change of doctor blades and high quality doctoring.


Genuine TRESU end seals guaranteeing authentic quality

WB, UV, solvent based inks / coatings






Anilox width

Up to 800 mm (31")



Anilox Ø

From 60 - 150 mm (2" - 5")



Speed

Up to 300 mm m/min (984 ft/min)



Print mode

No ink and coating circulation pump needed.


Cassettes filled manually and stored with remaining ink.

Chamber holds 250 ml - 2,000 ml ink (8fl oz - 67 fl oz)



Clamping

E-Line quick clamping solution



Design

High quality doctoring for perfect printing and coating with the TRESU EasyLoc mechanical loading system



Materials and surface

Aluminum, hard anodized (HA-S) pH 4.5 - 9


Ceramic coated (TRESU CeraFlex) ph 2.5 - 12



Inks and coatings

WB, UV or solvent based inks and coatings
We are here to answer any questions you may have about our products. Reach out to us and we'll respond as soon as we can. If you have any questions about the new TRESU Reservoir SAVEink chamber or need further information please contact us on sales@tresu.com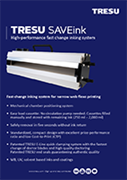 ANIMATION