Coating circulation
The unique concept based on TRESU Ancillary's flexo technology the circulator automatically adjusts to the coating supply and initiates optional cleaning programs and by means of a sensor to measure coating pressure and press speeds at the doctor blade, the circulator also regulates coating comsumption.

And finally, temperature regulation for UV coatings is achieved with the new Coating conditioners, which feature an automatic refilling system to maintain coating quantity and fixed temperatures. Overall, the system enables sheetfed and web offset printers to coat printed products at faster speeds, without the risk of microfoaming and blisters in the coated surface.
CASESTORY
ROI in 3 months from a retrofitted coating supply system!

ANIMATION
Pressure Control Technology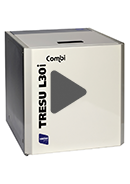 MP4|