TRESU XL5i G3 Coating Circulator:
Efficient circulation of special or sensitive media.
The TRESU XL5i G3 peristaltic coating circulator ensures precisely regulated and stable flow for uncontaminated coating with sensitive or special aqueous or UV coatings for all printing applications.
Used in combination with a chamber doctor blade system and customized open cell anilox roll, the TRESU XL5i G3 with 2 separate built-in supply and return pumps provide full control of an enclosed circulation from the bucket to the chamber, where the coating fills the cells of the anilox roll.
The Pressure Control Technology concept from TRESU prevents contamination of air inside the chamber and eliminates micro foaming and undesired blistering of the print.
The HMI with intuitive graphical user interface optimizes operators' start up time with fast and easy guidance to basic start up and operation commands and the ability to access a range of automated operation modes as well.

TRESU XL5I G3 VIDEO.
TRESU XL5i FEATURES:
EFFICIENT CIRCULATION OF SENSITIVE AND SPECIAL UV OR AQUEOUS MEDIA

PRESSURE CONTROL TECHNOLOGY ELIMINATES MICRO FOAMING

COMPACT CIRCULATOR WITH 2 PERISTALTIC PUMPS – ONE SUPPLY AND ONE RETURN


AUTOMATION WITH SENSOR-CONTROLLED SYSTEMS FOR LEVELS AND PRESSURE

INTUITIVE HMI WITH FAST AND EASY ACCESS TO ALL MODES OF OPERATION

MODULAR PLATFORM UNLOCKING ADDITIONAL FEATURES ON DEMAND
Pressure Control Technology.
TRESU's compact circulator XL5i G3 features 2 solid and separately built in peristaltic pumps – one supply and one return – that provide full control of the enclosed circulation from the bucket to the chamber, where the coating fills the cells of the anilox roll.
The Pressure Control Technology system from TRESU includes a coating circulator, chamber doctor blade system and an agitator for optimal results.
Adding TRESU XL5i G3 you eliminate micro foaming and you get less waste and more volume from your existing production setup.
Adaptive Tray Level Control.

With Tray Level Control the new XL5i G3 offers a whole new way of combining and controlling the coating process with intuitive display signals on the HMI, recommendations and warnings from coating level sensors, flow sensors as well as temperature measurements from an IR anilox sensor.
Automated coating can now be repeated at high production speeds.
With TRESU XL5i G3 you improve your efficiency - you can simply coat more volume each day - from your existing production set up.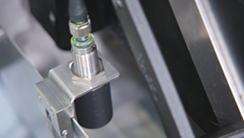 Download TRESU XL5i G3 datasheet right here: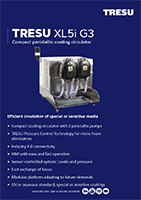 EN | ITA |ES
TECHNICAL SPECIFICATIONS

DIMENSIONS (H x W x D)

562mm x 600 mm x 600 mm | 22 1/8" x 23 5/8" x 23 5/8"

WEIGHT

76.5 kg | 168 Pounds (lbs)

VOLTAGE

200 - 400 v / 50 - 60 Hz

FLOW RATE

Up to 12 L/min | Up to 3.1 us gpm

INKS/COATINGS

Standard/Special/Sensitive aqueous and UV

ALARM LIGHT

Standard

HIGH LEVEL TRAY SENSOR

Standard

CERTIFICATES

Optional

CONNECTIONS

Optional

OPTIONS

Pressure control technology

IR sensor measuring on anilox roll

High/Low alarm levels in buckets

Refill system functionality

Pump head lid open/closed sensor

Chamber position sensor

Hose break sensor

Print ON/OFF function from HMI

Print flow sensor

Cleaning module CM5i

Extra operator panel