Automated Cleaning and Improving Quality Consistency
TRESU MaxiPrint Concept cuts cleaning time and improves quality consistency in Wide Web and Corrugated Flexo applications comprised of a closed chamber, an ink supply unit, and a cleaning cycle. MaxiPrint Concept offers fast, automatic internal cleaning, corrosion-resistance, improved print quality consistency and reduced ink loss.
Complete ink change and cleaning cycle down to 3-5 minutes. The MaxiPrint Concept chambers feature integrated cleaning nozzles with robustly designed water-shot mechanisms, ensuring quick emptying for fast and efficient cleaning of the chamber and anilox roll, and limiting ink loss during the cleaning cycle.
Furthermore, MaxiPrint Concept offers significantly faster emptying performance because the ink/coating fluid is evacuated through both the inlet and the unique quick-emptying outlet. The Benchmark in Wide Web Flexo designed for both new OEM solutions as well as retrofit projects on existing machinery, MaxiPrint Concept is the benchmark for low ink loss, short job changeovers, and efficient cleaning in wide web flexo applications.
TRESU MaxiPrint Concept is available with a peristaltic or diaphragm ink supply system, and can be adapted to any press side according to need and access. The chambers come with a lightweight carbon-fibre (CFC) or ceramic (CFX) surface, in widths of 1600 mm to 6000 mm.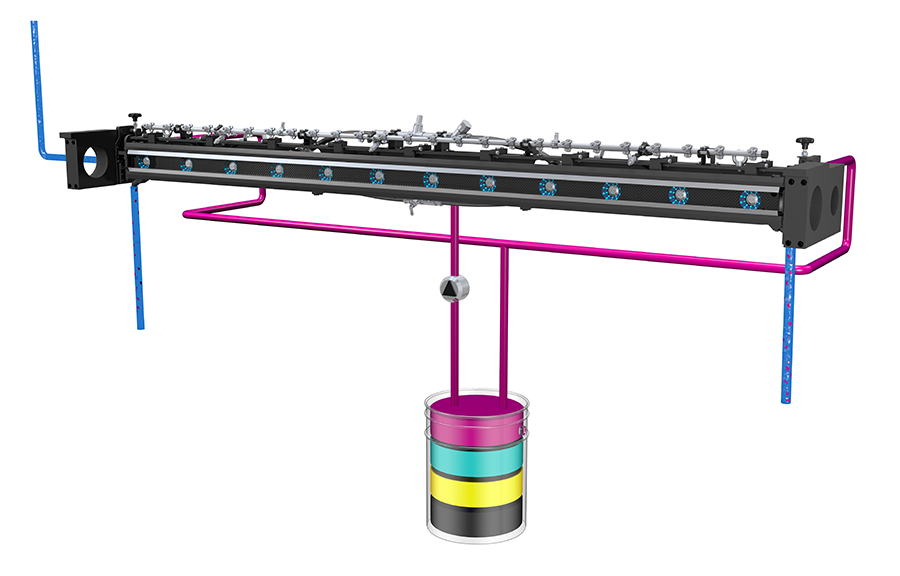 DOWNLOAD BROCHURE
TRESU MaxiPrint

EN | JP | DE | ITA | ES

ANIMATION
MaxiPrint Concept

MP4|

ANIMATION
MaxiPrint Fast Job change

MP4|





GET IN CONTACT TO GET YOUR SAVINGS IDENTIFIED: sales@tresu.com
TRESU MaxiPrint Concept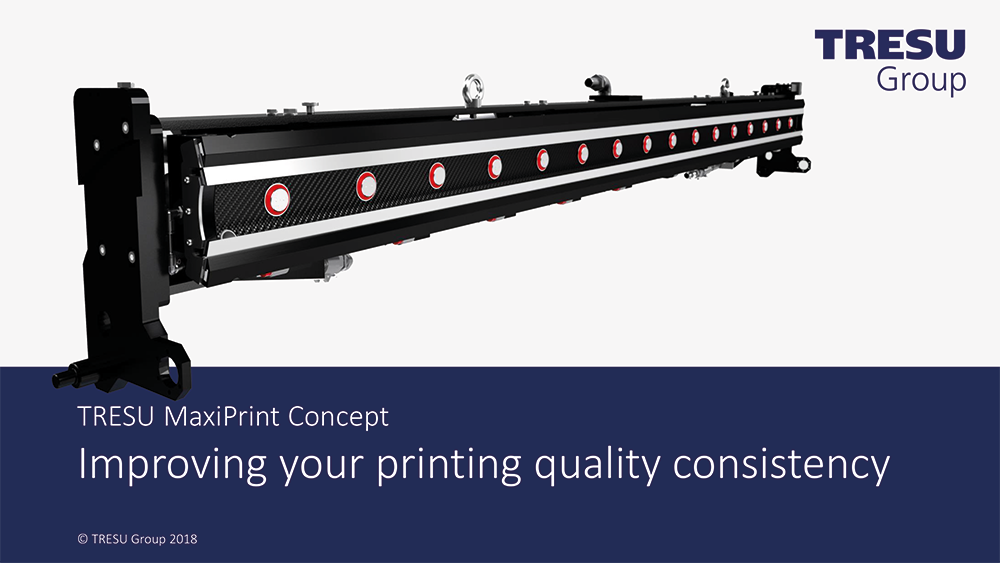 EN| DE | ES

The MaxiPrint Concept features TRESU's genuine seal system that prevents leakage and interaction of the chamber contents with the atmosphere. The enclosed environment, resulting from the seal and precise blade positioning, ensures pressure and flow rate are maintained at desired levels without manual intervention.
This stops air contaminating the chamber and results in foam-free transfer of ink / coating directly to the anilox cells, also at fast speeds. The TRESU P-Line pneumatic clamping system also ensures fast, safe blade exchange within two minutes.



Ink Change and Cleaning Cycle



| | | | |
| --- | --- | --- | --- |
| Ink from previous job | Quick emptying | Automatic cleaning | Supply of new ink |