Title
TRESU chosen as supplier of custom designed formaldehyde-free coating line.
Main Image: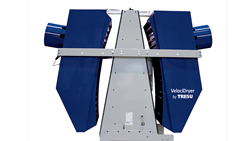 Short text:
TRESU announces, that it received an order for a fully customized coating line for formaldehyde-free coating from Ahlstrom-Munksjö in Sweden.
This important project is for a special solution made possible by TRESU's knowhow and experience in building high-performance coating lines. TRESU's state-of-the-art technology, such as the VelociDryer™ developed and refined through 40 years of engineering, will enable Ahlstrom-Munksjö to manufacture formaldehyde-free balancing and finish foils for furniture, as well as to the building and construction industries.
Long text:
The VelociDryer™ technology delivers the drying capacity required by Ahlstrom-Munksjö for high-speed production of formaldehyde free coating. In addition, the new coating line will also reduce CO2 emissions by an estimated 20 per cent. These features will strengthen Ahlstrom-Munksjö's position as a supplier of sustainable fibre-based solutions. Furthermore, the project is expected to increase the plant's manufacturing capacity and allow expansion into new geographical markets.
"This investment will enable us to offer more sustainable coated paper and unbleached pulp products for our customers and extend these capabilities to new customers and market segments worldwide," said Eva Thunholm, Vice President, Insulation Business, Ahlstrom-Munksjö. "I am equally excited that it will contribute to our group target of reducing carbon dioxide emissions and enable us to abandon the use of formaldehyde, which will also improve the safety of our employees."
"We are happy when our technology can help our customers. In this case we are building a complete coating line using our VelociDryer™ technology to solve a specific coating challenge with high demands for the drying capacity requested by Ahlstrom-Munksjö" said Ronni Nielsen, Vice President, TRESU Solutions. "We are looking forward to this cooperation and are immensely proud to be a part of a brand-new, sustainable coating solution. Our involvement in a first-mover sustainable project like this is a win-win for all."
For further information pls contact:
Niels Westergaard, Sales & Technical Manager Solutions: nwe@tresu.com
Ronni Nielsen, VP Solutions: ron@tresu.com
Read more about Veloci-Dryer™ by TRESU here