Title
Meet us at SuperCorr in Orlando!
Main Image: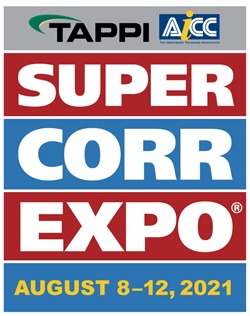 Short text:
At SuperCorr 2021 in Orlando Florida (US), TRESU (Booth 820) highlights solutions to optimize wide web corrugated applications through faster cleaning cycles and higher quality consistency.
TRESU will display a range of solutions and high performance ancillary products for reducing downtime and improving quality consistency with TRESU MaxiPrint Concept, F10iCon and proven doctor blades and genuine TRESU end seals.
Long text:
Faster cleaning cycles with the TRESU MaxiPrint concept.
The MaxiPrint Concept chambers feature integrated cleaning nozzles with robustly designed water-shot mechanisms, ensuring quick emptying for fast and efficient cleaning of the chamber and anilox roll, and limiting ink loss during the cleaning cycle.
Furthermore, MaxiPrint Concept offers significantly faster emptying performance because the ink/coating fluid is evacuated through both the inlet and the unique quick-emptying outlet. The Benchmark in Wide Web Flexo designed for both new OEM solutions as well as retrofit projects on existing machinery, MaxiPrint Concept is the benchmark for low ink loss, short job changeovers, and efficient cleaning in wide web flexo applications.
TRESU MaxiPrint Concept is available with a peristaltic or diaphragm ink supply system, and can be adapted to any press side according to need and access. The chambers come with a lightweight carbon-fibre (CFC) or ceramic (CFX) surface, in widths of 1600 mm to 6000 mm.
Get full control with an automated ink supply system: F10iCon
The F10 iCon is a lean, innovative solution for safe, stable and controlled ink circulation – with easy handling and increased production output. F10 iCon automatically adjusts flow, ink pressure and viscosity, providing complete ink process control and outstanding print quality. The F10 iCon eliminates the labour-intensive, time-consuming task of monitoring ink flow.
Extending performance with genuine end Seals and doctor blades for chamber doctor blade systems.
TRESU distributes a complete portfolio of end seals matching each and every application in coating and printing. Based on more than 40 years of working with, developing, and supplying end seals to printing and coating applications all over the world, we have accumulated the knowledge and experience to help you avoid unnecessary downtime and repeat your high quality printing and coating - year in, year out.
TRESU presents a wide range of proven doctor blades to secure, that our customers will find the right match to their individual printing or coating process: Polymer blades, carbon steel blades and stainless-steel blades.
We know, that even the smallest details matter and we recommend matching TRESU's proven doctor blades with the characteristics of your application, if you want to be sure to get the right performance with repeated high quality printing and coating processes.
Meet TRESU: Booth 820