Title
Meet us at FEFCO in Lyon 25 – 27 October 2023
Main Image: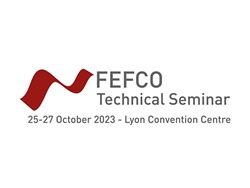 Long text:
At FEFCO's technical seminar in Lyon (F), TRESU presents solutions to optimize wide web corrugated applications through faster cleaning cycles and higher print quality consistency.
TRESU's proven MaxiPrint carbon fiber chambers feature integrated cleaning nozzles with water-shot mechanisms for fast and efficient cleaning.
Reducing cleaning time and improving quality consistency in corrugated post printing applications – and optimizing OEE - TRESU offers the MaxiPrint lightweight chamber doctor blade system in carbon fiber material featuring integrated cleaning nozzles with water-shot mechanisms for fast and efficient cleaning, an overall faster cleaning cycle and a faster job change.
The TRESU F10 iCon ink supply is a lean solution for safe and automated ink circulation and full process control of flow, ink pressure and viscosity.
Based on 40 years working with global printing and coating applications, TRESU also presents a complete range of genuine end seals in felt, foam or EPDM and proven doctor blades in polymer, carbon steel or stainless steel.
With TRESU's biodegradable cleaning detergents, converters in the corrugated printing industry can now take the first step to a greener footprint. Extending Performance again TRESU has recently expanded the range of cleaning detergents and consumables enabling faster cleaning cycles and less downtime for UV, WB and solvent based printing applications.
We supply consumables for all printing applications straight from our webshop – items are on stock in DK and US and ready for ordering. If you need cleaning detergents, ear plugs, gloves, knife, safety glasses, sponges or brushes - this is where you find it all.
Meet TRESU: Booth 86
TRESU is a leading flexo technology lifecycle partner offering flexible, customized solutions of flexo printing press machines and ancillary products and parts for flexo, digital and offset printing to the graphic industry. TRESU has 40 years of experience and expertise in the development and production of engineered solutions for this industry and supplies directly to end-customers, OEMs and partners.
Press Information
Soren Kristensen, Head of Global Marketing, TRESU
Email: skr@tresu.com