Title
Why is it goodbye to preprinted nonwovens? Meet us at IDEA in Miami
Main Image: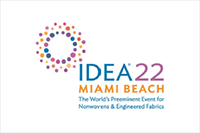 Short text:
Automated inline branding of nonwovens – with up to 30% cost savings.
Long text:
At IDEA 2022 in Miami (US), TRESU presents its customized inline CI flexo printing machines, that will reduce the Cost to Print in branded nonwovens printing applications.
A fully automated single pass converting line with integrated inline printing technology optimizes the ability to meet brand owners' demand for branded nonwoven goods and also offers competitive short production runs and short lead-times - with costs firmly controlled.
With a fully automated printing setup requiring a minimum of operator training, the flexible TRESU CI inline flexo printing press can help brand owners reduce stock complexity, logistics and dependence on pre-printed materials. In fact, some brand owners have recorded up to 30% cost savings with inline flexo printing.
For applications with 3 - 31" web width (80-800 mm.), key features such as the precise register and a unique efficient drying technology called Veloci-Dryer™ by TRESU, enable flexible printing with production speeds up to 1,960 ft/min (600 m/min).
TRESU inline CI flexo printing reduces brand owners' time to market, but also allows for frequent design changes in response to seasonal trends or fashion demands.
The compact housings and build-in measures of TRESU's inline CI flexo printing machines are also ideal for retrofitting, where space is limited but quality requirements high.Request a printed nonwovens sample or meet us at IDEA in Miami, Booth 5018.
About TRESU
TRESU is a highly specialized company offering flexible, customized solutions of flexo printing press machines and ancillary products and parts for flexo, digital and offset printing to the graphic industry. TRESU has 40 years of experience and expertise in the development and production of engineered solutions for this industry and supplies directly to end-customers, OEMs and partners. Visit the company's website at www.tresu.com

Press Information
Soren Kristensen, Head of Global Marketing, TRESU
Email: skr@tresu.com