Title
TRESU Americas at FTA Infoflex in Columbus, Ohio.
Main Image: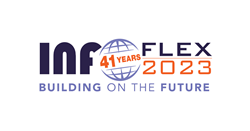 Short text:
Kolding, Denmark, March 2023:
At this year's FTA Infoflex in Columbus (17. – 18. April) TRESU (Booth 411) highlights the Innovator flexo press technology as well as a range of automated ancillary equipment solutions for optimized ink and coating supply enabling converters to reduce the cost of ownership in flexo, digital and offset printing. TRESU also presents a range of genuine parts and consumables.
Long text:
Efficient high-speed in-line flexo performance with up to 2,600 feet/min.
With several installations across North America, the TRESU Innovator press has proven its ability to add value by combining outstanding print quality, high speed and fast job changes.
In fact some of the largest packaging companies in the US producing the majority of the beverage carriers in the US are using TRESU Innovator presses.
The press provides an efficient, single-pass alternative to labour-intensive common-impression printing, enabling the integration of water-based, solvent and UV-curable inks. With high-speed unit-to-unit air drying, automated ink supply and sleeve systems, the press provides a stable, efficient printing platform at speeds up to 2,600 ft/min.
Available in widths up to 67" the Innovator is a custom-configured multi-process, inline printing and converting press for folding carton board, paper, laminates and metallic substrates.
High performance ancillary equipment for automated ink and coating supply.
TRESU's line of ancillary ink supply systems and chamber doctor blade systems provides an automated, enclosed solution for regulating the supply of ink all the way from the bucket to the press – thereby optimizing quality consistency, process efficiency and ergonomics with no air contamination.
Enable improved print quality, waste elimination and cleaner production with TRESU's chamber doctor blade systems. Engineered for optimal performance chambers are available with carbon fiber or ceramic surfaces for corrosion resistance and effective automated cleaning.
TRESUs program of chamber doctor blade systems cover carbon fiber, ceramic and aluminum chamber doctor blade systems from narrow web labels and up to wide webs for corrugated board printing.
Extending Performance with TRESU Customer Care.
TRESU supplies a complete range of genuine end seals in felt, foam or EPDM and proven doctor blades in polymer, carbon steel or stainless steel.
With more than 40 years of accumulated industry experience and in-depth knowledge of printing machines together with strong engineering capabilities and a full range of genuine spare parts, TRESU extends performance of customers' equipment worldwide to keep optimizing the value from their TRESU high performance printing machines and equipment.
About TRESU.
TRESU is a highly specialized company offering flexible, customized solutions of flexo printing press machines and ancillary products and parts for flexo, digital and offset printing to the graphic industry. TRESU has 40 years of experience and expertise in the development and production of engineered solutions for this industry and supplies directly to end-customers, OEMs and partners. Visit the company's website at www.tresu.com
Soren Kristensen, Head of Global Marketing, TRESU
Email: skr@tresu.com