Title
Meet TRESU at IGAS2022 in Tokyo
Main Image: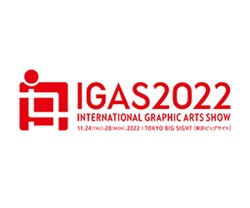 Short text:
IGAS Tokyo in Japan: TRESU highlights high performance printing and coating equipment.
November 2022


Long text:
TRESU Japan is exhibiting high performance ancillary printing systems and equipment at booth 6-26 at the International Graphic Arts Show – IGAS - in Tokyo, Japan from November 24th to 28th.
Based on 40 years of proven experience working with world leading brands, TRESU supplies a wide range of ancillary equipment for printing and coating applications matching the requirements of OEM manufacturers, printing companies and packaging companies world-wide.
TRESU is the world's leading supplier of proven chamber doctor blade systems available in widths from 185mm to 6000mm featuring TRESU's Pressure Control Technology which enables high speed printing with fast drying characteristics and improved quality. TRESU chamber doctor blade systems are available for WB, UV or solvent based inks and coatings and are available in carbon fiber, aluminum and a ceramic surface alternative is also available. TRESU XL blade holders enable a fast shift to thicker polymer doctor blades.
Automated ink and coating supply systems from TRESU supply coating and ink with no risk of contamination and a minimum of downtime with automatic cleaning, and complete ink-change cycles within minutes.
New third-generation ink and coating circulation technology from TRESU enables sheet-fed and web printers to save resources while exploiting high speed coating, with full control and no risk of micro-foaming and blisters.
TRESU ink- and coating circulators push the boundaries for automated high-quality coating operations with built-in intelligence, connectivity, and data opportunities.
Extending the performance of customers' printing technology, TRESU provides the industry's fastest change of doctor blades, a full line of polymer, carbon steel, stainless steel or tool steel doctor blades together with a genuine range of end seals in felt, foam or EPDM.
Henrik Kristensen, Vice-President, TRESU comments: "TRESU's wide range of ancillary printing and coating systems, backed up with comprehensive global customer care and genuine parts extending the performance of our equipment, provides customers in the printing industry with a lifecycle partner for automating processes, reducing setup times, eliminating waste and assuring predictable, repeatable printing. We are looking forward to meeting you at booth 6-26 in Tokyo"