Title:
Upgrade Your Sheet Fed Offset Printing Machine.
Main Image: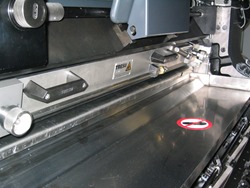 Long text:
Adding new varnish functionality and pressure control technology might be your key to open up new markets with advanced finishing:

· Full or Spot Coating
· Combinations of Matt and Gloss
· Scented Coatings or Haptic Surfaces
· Metal Pigment Silver or Gold inks Glitter Coatings and Iriodin
New Varnish Functionality for Leading Offset Printing Machines Like Heidelberg, Manroland, KOENIG & BAUER, Komori and Many Others

Open up new opportunities and upgrade your existing printing machine to deliver creative customer appealing prints and finishing.


By simply adding proven flexo printing technology with a few components
· Coater Head
· Chamber Doctor Blade System
· Circulator
you gain the ability to print consumer appealing products with advanced finishing - with your existing offset printing machine.
TRESU provides customised coating units for the world's leading offset press manufacturers. These can be specified with new printing presses, or retrofitted after installation - either inline or integrated with other finishing processes parallel to the printing press.
Contact sales@tresu.com for further details on upgrades and retrofits
With TRESU's proven Pressure Control Technology you can eliminate micro-foaming and blisters in your varnish.
Adding the L10i Aqua/UV & L30i Combi or XL5i circulator to control your UV, WB or special sensitive coating applications, you can now both save resources and exploit the full creative potential of the coating media for eye-catching designs and strong branding.

L10i Aqua/UV & L30i Combi and XL5i are benchmark proofs of our dedication in offset applications.

Contact sales@tresu.com for details on TRESU's proven Pressure Control Technology.