Title
TRESU XL5i G3 - Join our webinar!
Main Image: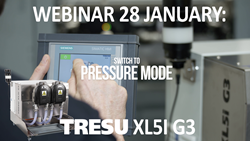 Short text:
Take a closer look and get insights on pressure control technology and our new XL5i G3 coating circulator for special and sensitive UV or aqueous coatings.


Long text:
Introducing our new TRESU XL5i G3 coating circulator we present insights on the proven TRESU Pressure Control Technology as well as all the new automation features and HMI enabling a much more efficient coating setup. Register and join us to get the insights and features up close.
We still have a few seats available at two different timeslots 28 January:
- Session on 28 January 09:00 am (CET) - link no longer active

- Session on 28 January 3:00 pm (CET) - link no longer active
We expect the webinar to have a duration of 45. min.
Join us!