Title
TRESU ICE2023 Preview, 14-16 March, Munich
Main Image: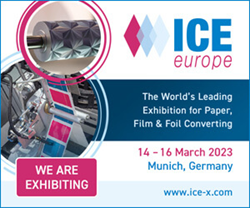 Long text:
10 February, Kolding, Denmark:
At ICE Europe 2023, TRESU will be highlighting sustainable and automated custom-designed flexographic coating systems, for efficient inline application of functional barriers and graphics in industrial manufacturing and converting lines.
Meet our team at booth 564 in the Munich Trade Fair Centre, Germany, 14-16 March.
TRESU supplies custom built retrofit or upgrade units configured for individual space requirements, converting speeds and substrate types running up to 800 m/min. and is a solution to sustainability market requirements like the EU recycling classification information on product packaging enabling end users to collect, sort and recycle all packaging materials in compliance with EU legislation.
Today's market transition in printing applications towards sustainable water-based coatings with the same barrier properties as laminates is now permanent and picking up speed.
When providing high speed coating technology to world leading brand owners a key feature is the ability to efficiently dry water-based coatings at high speeds. The technical solution to do this is connected to the air velocity in the drying process. TRESU's VelociDryer™ ensures powerful high-speed drying of water-based multilayer coatings for uninterrupted single pass operations.
With the highly automated H5i G3 coating supply system for WB, UV or e-beam coating applications - printers can easily and efficiently control special coating applications and special demanding circulation tasks with high viscosity, high pressure, high flow, high speed and high temperatures.
TRESU has proven expertise in systems for the application of coating, varnish media, glue or silicone layers for a diverse range of applications including folding carton with food barriers, liquid packaging, cups and plates, décor, veneering and wallpaper.
Niels Westergaard, Sales and Technical Manager at TRESU, comments: "As a versatile process capable of high speeds, and high-definition graphics, flexography is ideal for inline functional or decorative printing or coating. TRESU's flexographic technology enables manufacturers to boost their products with features that bring improved safety, user convenience, and brand presentation."
ICE Europe 2023 is co-located with the CCE International – International Exhibition of the Corrugated and Folding Carton Industry – TRESU is present at both events.
About TRESU
TRESU is a highly specialized company offering flexible, customized solutions of flexo printing press machines and ancillary products and parts for flexo, digital and offset printing to the graphic industry. TRESU has 40 years of experience and expertise in the development and production of engineered solutions for this industry and supplies directly to end-customers, OEMs and partners. Visit the company's website at www.tresu.com.
Press Information
Soren Kristensen, Head of Global Marketing, TRESU
Email: skr@tresu.com