Title
TRESU highlights customized flexo printing and coating technology at ICE 2022, Munich.
Main Image: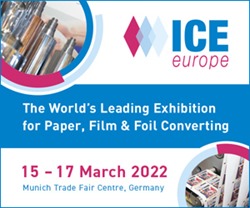 Short text:
TRESU preview ICE2022, Munich

Long text:
Kolding, Denmark:
At ICE Europe 2022, TRESU will be highlighting custom-designed flexographic printing and coating systems, for efficient, productive, inline application of functional barriers and graphics in industrial manufacturing and converting lines (Hall A6, Booth 496, Munich Trade Fair Centre, Germany, 15-17 March).


As a global provider of machines and equipment, TRESU has proven expertise in building complete systems specially optimised to apply ink, varnish media, glue or silicone layers for a diverse range of applications, including detergent pouches, nonwoven sanitary products, liquid packaging, décor, veneering and wallpaper - and on demand also more special applications. The company also supplies Veloci-Dryer™ by TRESU drying units, ink supply systems and chamber doctor blade systems to ensure uninterrupted single pass manufacturing and printing.

Automated features ensure clean, uniform printing of coating media at speeds up to 800m./min. TRESU's ink supply systems, together with the company's lightweight, ink repellent carbon fibre chamber doctor blade systems and genuine TRESU end seals provide an enclosed, pressure-controlled supply of coating and ink to the substrate without any risk of contamination.
Waste and setup-times are minimised as the supply system provides automatic cleaning, and complete ink-change cycles within minutes, returning unused ink after production, for future use. Included are TRESU's high-velocity, hot airdrying Veloci-Dryer™ systems that recirculate up to 85 percent of air, offering energy-efficiency and low emissions.
TRESU supplies retrofit or upgrade units configured for the space requirements, converting speed, coating chemistry and substrate type, for roll-to-roll, roll-to-sheet and multi-web manufacturing situations. They may be integrated directly into the main frame of the manufacturing line, parallel or at an angle to the line, or in a mezzanine configuration, in which the unit is positioned above the line.
Niels Westergaard, Sales and Technical Manager at TRESU, comments: "As a versatile process capable of high speeds, and high-definition graphics, flexography is ideal for inline functional or decorative printing. TRESU's flexographic technology enables manufacturers to boost their products with features that bring improved safety, user convenience, and brand presentation. With our automated solutions, 40 years of experience and proven solutions, customers benefit from a fast return on investment, short learning curves, and long-term low cost of ownership. Fix an appointment at booth 496, Hall A6 to learn how TRESU's unique printing solutions can add value to your existing processes."
About TRESU
TRESU is a highly specialized company offering flexible, customized solutions of flexo printing press machines and ancillary products and parts for flexo, digital and offset printing to the graphic industry. TRESU has 40 years of experience and expertise in the development and production of engineered solutions for this industry and supplies directly to end-customers, OEMs and partners. Visit the company's website at www.tresu.com.
Press Information
Soren Kristensen, Head of Global Marketing, TRESU
Email: skr@tresu.com