Title:
TRESU Flexo Tech Event 2020 - Join us! (Postponed to third quarter 2020)
Main Image: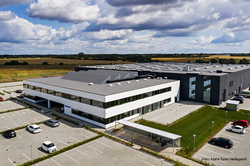 Long text:
Updated March 11th: Due to COVID-19 we have now postponed the event to autumn.
We have moved into new facilities and warmly invite our customers to take part in our Flexo Tech Event together with our invited suppliers and business partners 31st March in our new headquarters in Kolding.
Invitations will be sent out shortly so mark your calendar and enjoy a day of key highlights in proven flexo technology from TRESU and some of our trusted suppliers and business partners – a great opportunity to meet and get set for drupa2020 together with:
B&R Industrial Automation, BST International, BW Papersystems, D&W Flexomanufaktur, Flexo Wash, FESTO, FlexoConcept, GEW, Halle Karton, IMS Technologies, Inometa, IST METZ, JM Heaford, Madern, Martin Automatic, Mtorres, PrimeBlade, Scanteco, Siegwerk, Siemens, Spilker Scandinavia and Vetaphone.
Looking forward to a great day in March – join us!
Contact Marketing Manager Soren Kristensen for information: skr@tresu.com