Title
TRESU chosen as supplier for a new lottery printing press
Main Image: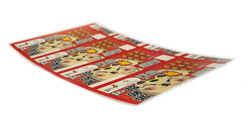 Long text:
China Sports Lottery Printing Co. LTD. has chosen TRESU as their supplier for a 20 unit state of the art flexographic printing machine engineered for high volume printing of scratch-off lottery tickets.
With this project TRESU enters another great partnership with a highly respected customer in the lottery segment for the delivery of a TRESU Flexo Innovator.
"We are proud of the trust put in us by China Sports Lottery Printing Co. LTD. and we are looking forward to honor this trust with the delivery of a fantastic press and the support of it through its lifetime, building a long-term genuine partnership – a core competence we have built up over 40 years in the printing industry", said Ronni Nielsen, Vice President, TRESU Solutions.