Title
Print4All in Milan, 3-6 May 2022
Main Image: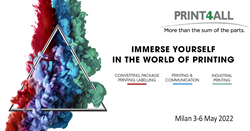 Short text:

TRESU highlights high performance ancillary printing systems at Print4All, Milan
Long text:
At Print4All 2022 in Milan TRESU will be presenting high performance ancillary printing systems and equipment at Booth D15/E16 at the Fiera Milano from 3rd to 6th May.
As a global provider of ancillary printing systems and equipment, TRESU has proven expertise in building complete systems specially optimized to apply ink, varnish media, glue or silicone layers for a diverse range of applications.
TRESU's ink supply systems, together with the company's lightweight, ink repellent carbon fiber chamber doctor blade systems and genuine TRESU end seals provide an enclosed, pressure-controlled supply of coating and ink to the substrate without any risk of contamination. Waste and setup-times are minimized as the supply system provides automatic cleaning, and complete ink-change cycles within minutes, returning unused ink after production, for future use.
The third-generation ink and coating circulation technology is represented in a range of color- and coating circulators enabling sheet-fed and web printers to save resources while exploiting high speed coating, with full control and no the risk of micro-foaming and blisters. The i-Series coating circulators pushes the boundaries for automated high-quality coating operations. They all share a modular platform designed with built-in intelligence offering converters new control, connectivity and data opportunities in print and coating operations. Coating applications will now benefit from high-quality coating with an increased product lifetime and a more efficient use of resources with less waste - increasing overall equipment effectiveness (OEE).
TRESU chamber doctor blade systems, in widths from 185mm to 6000mm, feature patented rubber seals, controlling pressure while preventing leakage and air contamination - enabling clean blister-free print with fast drying characteristics and improved gloss values at faster print speeds. Chambers are available in carbon fiber form, featuring light weight and optimum corrosion resistance, while ceramic and aluminum alternatives are also available for various applications.
Extending the performance of customers' printing technology TRESU's Customer Care program provides customers with a comprehensive, ongoing support package to maximize machine uptime and assure consistent quality. Services provided include 24/7 support, machine and equipment upgrades, life cycle management and a fast supply of consumable products and spare parts, optionally available through an online Webshop.
Henrik Kristensen, Vice-President, TRESU comments: "TRESU's program of ancillary and retrofittable ancillary printing systems, backed up with comprehensive global customer care, provides the flexo printer with a firm basis for automating processes, reducing setup times, eliminating waste and assuring predictable, repeatable results. We are looking forward to meeting you in Milan"
Gianni Amendola, Managing Director TRESU Italy further elaborates: "Over the past 40 years, TRESU has earned the respect and recognition of an industry with a centuries-old history. We've earned that through long-term customer relationships, through an unwavering technology focus, and through our commitment to customer success over time."
About TRESU
TRESU is a highly specialized company offering flexible, customized solutions of flexo printing press machines and ancillary products and parts for flexo, digital and offset printing to the graphic industry. TRESU has 40 years of experience and expertise in the development and production of engineered solutions for this industry and supplies directly to end-customers, OEMs and partners.
Press Information
Soren Kristensen, Head of Global Marketing, TRESU
Email: skr@tresu.com