Title:
Postponed to October: INDEX2020 in Geneva
Main Image: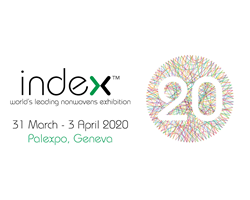 Long text:
Sustainable branding with up to 30% cost reduction in nonwoven production processes?
Modular and flexible inline print solutions with inline flexo printing in the absorbent hygiene and personal care markets, with fast job changes in less than 5 minutes, speeds up to 600m/min - and LESS waste?
Too good to be true?
Well, meet our team to learn how we reduce the cost of printing for nonwoven solutions: We are at INDEX2020 in Geneva from October 20 - 23 – you will find us at booth 4665. Please contact Business Unit Manager Klaus Paaske or rooba Sivagnanam for an individual presentation and we will prove our case.
Watch our video "Boost your Brand" - or wait for Geneva to watch our new video.