Title
New TRESU US/Amercias Webshop Online
Main Image: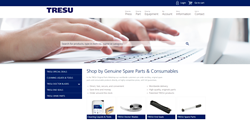 Long text:
We now launch our all new US webshop: Explore our great selection of wear and tear parts - for printing and coating equipment combined with a range of webshop features to speed your order and delivery time - and we also ship internationally!
Increase your productivity and set up your account today to secure direct access to critical parts for your value chain – with greater transparency in both invoicing and in shipping: Shop by Press, Part, Equipment or Part Number!
Genuine TRESU and Royse spare parts
Patented TRESU end seals
Wash & Print cleaning detergents – special recipe only from TRESU
Genuine TRESU doctor blades
New complete dampening water circulators
Replacement NOVA pumps and cooling packs
Not registered yet? Get ready and set up your account today: https://www.tresu-webshop.com/us
We are here to help you set up your account:
- Call: +1 866 873 7887
- Mail: spareparts-us@tresu.com
The Right Recipe for the Best Print: Genuine Parts From TRESU.

Make the right choice and stay ahead - go to www.tresu-webshop.shop/us for genuine doctor blades, patented end seals and special recipe washing detergents. Here is where you get the right recipe for the best print!

The Three Key Reasons to Source Genuine Parts

You have bought the best chamber doctor blade systems, so why buy spare parts in any other quality than the genuine?
Performance - Genuine parts are designed from the right compounds and with the right geometry and are built to accommodate your print job on the long run

Safety - Genuine parts are backed and supported by a proven supplier

Durability - Aftermarket wear parts are often built to be used in a variety of different chambers - and can result in the need for parts replacement or even repairs