Title
New TRESU SMART CENTER!
Main Image: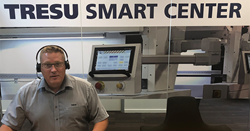 Short text:
With our new dedicated TRESU SMART CENTER we further intensify the efforts to handle global customer requests for service, monitoring and remote training tasks.
Long text:
With service technicians on all major continents and service experts in our TRESU SMART CENTER, we support customers to make them stay ahead of the game. TRESU offers 40 years of industry experience and in-depth knowledge of printing machines together with strong engineering capabilities.
We offer a lifecycle management program called TRESU Customer Care, which allows customers worldwide to gain maximum value from TRESU high performance printing machines and equipment:
Service & Maintenance
Remote Support 24/7
Upgrades
Genuine Parts
Webshop
Training
Driven by engineered answers and proven solutions with genuine parts, we secure uptime and optimized production to safeguard customers' peace of mind – and this does not come in a box.
Read more about TRESU Customer Care here or contact us for further information: service@tresu.com