Title
Meet us at HYGIENIX in Scottsdale, AZ (USA)
Main Image: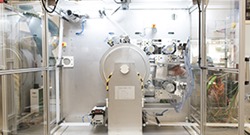 Long text:
Hygienix 2021 Preview:
Automated and cost-efficient branding of nonwovens with up to 30% cost savings.
Nov. 2021
At Hygineix'21 in Scottsdale (USA), TRESU presents its customized inline CI flexo printing machine technology reducing the Cost to Print in branded nonwovens printing applications.
A fully automated single pass converting line with integrated inline printing technology optimizes the ability to meet brand owners' demand for branded nonwoven goods, while having the flexibility to also offer competitive shorter production runs and shorter lead-times - with costs firmly controlled.
Inline flexo printing reduces stock complexity, logistics and dependence on pre-printed materials with a fully automated HMI design requiring a minimum of operator training.
For applications with 3 - 31" web width (80-800 mm.), a precise register and efficient drying technology with VelociDryerTM by TRESU enable production speeds up to 2,000 ft/min (600 m/min), which means that TRESU inline CI flexo printing machines reduce brand owners' time to market and offer an opportunity for frequent design changes in response to seasonal trends or fashion demands.
The compact housings and build-in measures of TRESU's inline CI flexo printing machines are also ideal for retrofitting, where space is limited, but quality requirements are high. Combining in-house inline printing with an efficient drying technology and water-based ink is a sustainable way of printing nonwovens.
Meet TRESU: Table 321