Title
Meet us at FEFCO in Copenhagen.
Main Image: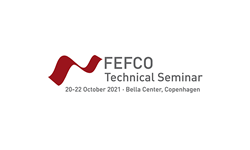 Long text:
FEFCO preview: Cut down cleaning time and improve printing quality consistency in corrugated applications.
10-09-2021
At FEFCO's technical seminar in Copenhagen 20-22 October taking place in Copenhagen (DK), TRESU presents solutions to optimize wide web corrugated applications through faster cleaning cycles and higher print quality consistency.
MaxiPrint carbon fiber chambers feature integrated cleaning nozzles with water-shot mechanisms for fast and efficient cleaning.
The InkLINK concept featuring the F10 iCon ink supply is a lean solution for safe and automated ink circulation and full process control of flow, ink pressure and viscosity.
Based on 40 years working with global printing and coating applications, TRESU presents a complete range of genuine end seals in felt, foam or EPDM and proven doctor blades in polymer, carbon steel or stainless steel.

Extending the performance of corrugated printing equipment, TRESU presents a special low foaming biodegradable cleaning detergent – based on a recipe only available from TRESU.
With TRESU's Wash & Print cleaning detergent downtime and waste are reduced but printing quality improved. With the biodegradable TRESU cleaning detergents, converters in the corrugated printing industry can now take the first step to a greener footprint.
Meet TRESU: Booth 21