Title:
Meet TRESU at INFOFLEX 2019 in New Orleans, Louisiana
Main Image: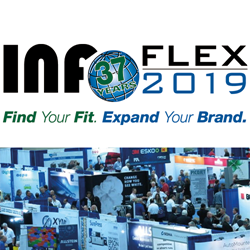 Short text:
TRESU presents performance-raising flexographic ancillary systems, industrial printing units and single-pass packaging printing press at INFOFLEX 2019
Long text:
At INFOFLEX 2019, TRESU will show flexographic ink supply and machine system solutions, including integrated printing units for converting lines as well as the Flexo Innovator press, meeting the quality, efficiency, and high output demands in labeling, packaging and industrial manufacturing (booth 738, 6th – 7th May, New Orleans Morial Convention Center, New Orleans, Louisiana).

Ancillary program optimizes flexo ink supply
TRESU's ancillary program of ink supply systems and chamber doctor blades automatically regulates the supply of ink and coating media to the press, enabling clean, consistent print results, with improved uptime, reduced waste, faster printing speeds, and minimal manual input. The F10 iCon ink supply system provides stable and controlled ink circulation, by maintaining precise flow, pressure and viscosity levels at predetermined values. The system provides significant material and time savings by automatically returning remaining ink back to the bucket at the end of the production run, and thorough, simultaneous chamber cleaning in a matter of minutes.
TRESU's chamber doctor blades, engineered for optimal performance, ink consumption and ink preservation in an enclosed environment, are available with carbon fiber or ceramic surfaces for corrosion resistance and effective automatic cleaning. Patented seals prevent foaming, ink contamination and leakage, while enabling uniform, accurate ink transfer at high printing speeds. For wide web applications (1600mm to 6000mm / 63in to 236.22in) the carbon fiber MaxiPrint Concept features an integrated nozzle with a water-shot mechanism for efficient chamber and anilox roll cleaning. Other TRESU chamber doctor blades include the SAVEink chamber for narrow web, and FlexiPrint Easy chamber for flexible packaging applications.
Information about TRESU's chilling systems for sustainable, efficient heat extraction from flexo presses will also be available. The intelligent iSeries offers an innovative control platform that interfaces directly with the TRESU Internal Diagnostic Monitoring System (IDMS). IDMS is a state-of-the-art, proactive system that monitors the chiller and alerts the TRESU service department of any performance issues, facilitating remote diagnostics and enabling swift remedial action. This system can also be run with offset and digital presses.

Flexo Innovator press for lean, high-output, value-added paperboard packaging
TRESU's Flexo Innovator press, for high-value paperboard packaging applications combines outstanding print quality, high output, fast job changes, sustainable printing and ergonomic design. Available in several widths between 670mm and 1700mm (26.38in to 66.92in), the Flexo Innovator is a custom-configured multi-process, inline printing and converting press for folding carton board, paper, laminates and metallic substrates. Thanks to its modular design, the Flexo Innovator may incorporate multiple processes and ink sets, enabling complex and distinctive packaging designs to be printed and converted in a single pass. Options include water-based, solvent and UV-curable inks, as well as high-end complementary processes such as reverse printing, gravure, inkjet, cold-foil lamination and converting.
With high-speed unit-to-unit air drying, automated ink supply and sleeve systems, the press provides a stable, efficient printing platform at speeds of up to 800 meters per minute (2625ft/min). It includes features that reduce waste, energy usage and emissions, reflecting TRESU's commitment to minimising the environmental footprint of flexographic print.
Efficient energy consumption is achieved with a unique gas heating solution and a software design where servo motors runs with relatively low power. Drying units recycle high proportion of both air inside the dryer and exhaust by means of heat exchange. Chilling systems safely extract heat from the press to external condensers that could return the energy to the incoming cold fresh air.

Customized flexo units for integration with manufacturing lines
TRESU will also showcase custom-designed retrofittable flexographic units, for integrated coating, printing and gluing on manufacturing and converting lines. Designed to apply coating media, ink, silicone and glue to a wide range of papers, plastics and nonwoven substrates, the units may be integrated with converting machines for numerous manufacturing applications. They optimize manufacturing processes in markets as diverse as household chemicals, feminine hygiene products, wallpapers, direct mail publishing, cigarettes and food.
The printing units comprise between one and six flexo stations and are available in widths ranging from 185mm to 4.8 meters (7.28in to 189in) . They include TRESU's automated ancillary equipment, for controlled printing at speeds ranging from 10m/min to 1000m/min (32.8fpm – 328fpm). The units may be adapted for UV, water-based, solvent or solventless media.
TRESU has installed over 300 printing units on manufacturing lines. They are being used for a variety of purposes, including applying fire-retardant barriers to cigarette paper, anti-slip coating to baking paper, logos and patterns to detergent pouches and nonwoven sanitary napkins, high-quality graphics to wallpaper and glue for direct-mail newspapers.
"INFOFLEX 2019 provides an ideal opportunity for packaging printers and industrial manufacturers to learn how TRESU's flexo ancillary and machine systems can add value to their processes and operations," comments Scott Hibbs, president, TRESU Americas. "North American customers can be assured of optimized performance thanks to TRESU's manufacturing and service facility in Dallas, providing rapid-response to queries, 24/7 remote diagnostics, and a quick parts and consumables delivery."