Title
Join TRESU's upgrade program for chamber doctor blade systems.
Main Image: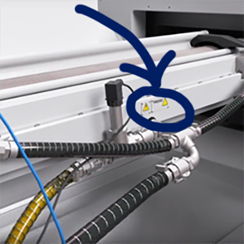 Long text:
We offer to check for an upgrade to your chamber doctor blade systems, if you provide us the serial number of your systems. You find the serial number on the plate on the back of your chamber and if you sign up we will get back to you with more information on your chamber system.
Sign up right here and benefit from the right upgrades, products, spare parts and 40 years of experience. You can at any time unsubscribe.
As a bonus, each quarter we draw entries for a chance to win an iPad! Winners are informed on an individual basis and if you win, we will ask you for a shipping address.
Explore our portfolio of genuine end seals matching each and every application in coating and printing:
· Felt, Foam, EPDM, Viton or Polyurethan
· Water based, UV based or solvents
· D1-D5
We offer a complete range of proven doctor blades in Swedish high-quality steel secure that you can find the optimal match to your printing or coating application.
· Polymer, carbon steel or stainless steel
· With or withour nano surface treatment
· Lemaella, bevel or round profiles
Sign up, explore our selection platform or contact us spareparts@tresu.com

Benefit from parts built on quality with care for the environment – TRESU is ISO 9001:2015 and ISO 14001:2015 certified.
TRESU - Extending Performance.