Title
Extending Performance: New Doctor Blades and End Seals
Main Image: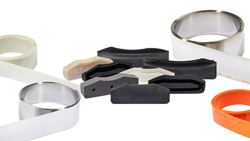 Long text:
Flexo machine manufacturer and printing equipment supplier TRESU now extends the range of doctor blades and end seals for chamber doctor blade systems for all printing and coating applications with the goal of extending the lifetime of customers' existing equipment and further improving the quality of their production.
TRESU launches an updated and complete portfolio of genuine TRESU end seals matching all applications in coating and printing. Based on more than 40 years of developing and supplying technology for printing and coating applications all over the world, TRESU now presents an updated selection of end seals in order to help customers secure more uptime and output from their chamber doctor blade systems. The range of end seals features different materials, compounds and shapes in order to cover all printing and coating applications.
To also ensure that customers always have a wide selection of doctor blades to choose from, TRESU has now expanded the range of doctor blades to now include doctor blades in polyester, carbon steel or stainless steel with lamella, round or bevel profiles.
Completing this new portfolio of consumables, customers can still select special recipe cleaning detergents only supplied by TRESU. This is a natural choice for water based and UV based inks and coatings and TRESU cleaning detergents are low foaming and biodegradable. They enable faster cleaning cycles and less downtime – and provide a sustainable solution to customers.
Adding to this picture, TRESU is ISO 9001:2015 and ISO 14001:2015 certified, so customers can rest assured, that TRESU cleaning detergents and products are based on quality - with great care for the environment.
"Today's production environment is changing fast. Repeatable quality, shorter runs at short notice, reliable workflows and optimal uptime are what printers need to compete effectively today," says Allan Rasmussen, Vice President, TRESU Customer Care. "These and other issues like sustainability and reducing waste are what our Customer Care program is about. In short, using genuine and proven parts, customers can extend the performance of their printing equipment".
TRESU is a highly specialized company offering printing machines and ancillary systems and concepts for flexo, digital and offset printing and coating industries, as well as customer service, spare parts, consumables and technical support.
TRESU has 40 years of experience and expertise in the development, production and maintenance of engineered solutions and supplies directly to end-customers, OEMs and partners world-wide. TRESU has production facilities in Denmark and sales companies in USA, Germany, Italy, Japan and China as well as an international agency network providing local support and know-how.
Press Information:
Søren Kristensen, Global Marketing Manager, TRESU
Email: skr@tresu.dk