Title
Cutting Edge Performance: 10% Extra Webshop Discount (10-16th. May2021).
Main Image: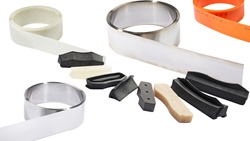 Short text:
Buy genuine TRESU end seals and proven doctor blades with an additional 10% extra online discount in our webshop (Promocode SUMMER2021).


Long text:
In the week of 10th to 16th May 2021 we run our summer campaign and if you use the promo code SUMMER2021 you are granted an additional 10% discount on your online webshop purchase of TRESU doctor blades and end seals.


Register online now to explore prices and data of our doctor blades and end seals. We ship from day-to-day to all destinations.

Simply create a secure account online and shop by press, part or part number. You can explore items and discounts here:


EU Webshop link.

Secure your supplies for the summer with TRESU - We are ISO 9001:2015 certified.

Pls. note: The offer is valid from 10th May until 16th May 2021 for online purchase doctor blades and end seals in our TRESU Webshop only.