Title:
Watch the NEW F10 iCon animation
Main Image: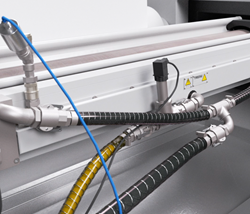 Short text:
The F10 iCon is a lean, innovative solution for safe, stable and controlled ink circulation – with easy handling and increased production output.

With patented TRESU ViscoFlow, the F10 iCon automatically adjusts flow, ink pressure and viscosity, providing complete ink process control and outstanding print quality.
Long text:

An essential component in today's lean manufacturing workflow, the
F10 iCon is energy-efficient, reduces waste and downtime. It is the ideal setup for common impression (CI) printing machines with TRESU chambers, stack presses and other press configurations. The F10 iCon is also retrofittable as an upgrade of your existing equipment and works on numerous substrates, including plastic, foil, film, carton board and paper.

The F10 iCon eliminates the labour-intensive, time-consuming task of monitoring ink flow. By maintaining stable ink flow, pressure and viscosity level, the F10 iCon guarantees optimum dot-gain values. The F10 iCon is well-suited for long runs, ensuring consistent high printing quality throughout production.
Learn more about the F10 iCon and watch the animation here.