Title:
Up to 6 meter wide carbon fibre chamber doctor blades from TRESU offer anti-corrosion, optimised ink flow and safe handling in corrugated flexo
Main Image: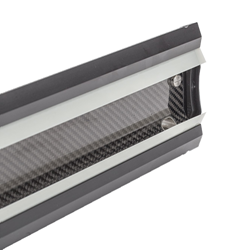 Short text:
The TRESU lightweight carbon fibre chambers are available in wider wdths from 1600mm up to 6000mm and offer improved chemical resistance, optimised flow and safe, easy handling
Long text:
The chamber is with top-coated ink-repellent internal surface providing extra protection against ink and detergents with high and low pH-values and ensures efficient cleaning after job completion. The clamping system additionally allows stainless steel blade changeovers within two minutes.

The simplicity and high level of automation, the TRESU carbon fibre chamber can be cleaned and prepared without being removed from the press. When used with an ink supply and cleaning system, such as TRESU's F10 iCon, the chamber doctor blade offers a fully automated and enclosed means of circulation, maintaining precise flow, pressure and viscosity, as well as eliminating leakage and evaporation during the print run, and significantly reducing setup times. The enclosed environment also stops air contaminating the chamber and results in foam-free transfer of ink / coating directly to the anilox cells, also at fast speeds.
TRESU offers a complete range of ancillary products including solutions for the narrow-web market – read more about the chamber doctor blade system here.