Title:
Inline flexo: the key to added value packaging for retail markets
Main Image: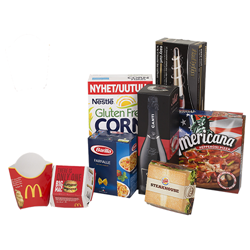 Short text:
TRESU's Flexo Innovator is a productive, efficient alternative inline flexo press for added-value folding carton printing. With advanced drying, curing and ink supply systems, it can include numerous colour stations and finishing processes for achieving distinctive, high impact designs...
Long text:
With advanced drying, curing and ink supply systems, it can include numerous colour stations and finishing processes for achieving distinctive, high impact designs in a single pass –at speeds up to 800 metres per minute. Available in several widths and offering fast setup times, Flexo Innovator is competitive for both short and long printing runs.
Packaging converters are facing challenges to meet higher quality and service standards. Brand owners want packaging with more added-value finishing techniques for increased self-presence to stand out and sell on the retail shelf. At the same time, increased choices, localisation and brand extension result in shorter run lengths. Additionally, in food and beverage sectors, we see an abundance of new niche players offering specialist products like craft beers, luxury coffee, tea, chocolate, and "farm produced" cheese and yoghurt. At the same time, major global brands retain their positions – and long run demands.
These trends suggest that converters need to offer more creative, sophisticated packaging solutions to give brands a distinctive look. Increasing cost and time pressure requires the production efficiency achievable in a single pass. Moreover, converters need the flexibility to change jobs quickly, to cater for both long and short run volumes.
Increasingly, packaging printers are telling us that they have to print up to 14 jobs in one eight-hour shift as well as occasional runs up to 160 rolls, lasting three days.
Flexo meets the most demanding quality expectations: it is capable of definitions up to 180lpi (70l/cm), which, for the consumer, is indistinguishable from offset or gravure. The thick ink coverage of flexo lays down rich solid colours, as well as contrasting varnishes in a single pass, achieving quality reproduction on economical substrates.
Inline flexo also offers the advantages of modularity and the ability to combine many processes and ink sets and efficient drying. Printing lines like the Flexo Innovator can be configured with any number of colour and coating stations, as well as complementary processes. These can include reverse printing, coating, digital and rotogravure processes, and different ink sets. Inline presses can also be retrofitted with extra modules as needs change.
Hybrid Flexo
Line configurations allow greater web distance between printing stations for better control and faster speeds during drying and curing. Hybrid flexo printing, combining water-based UV-curable and solvent ink printing stations, is growing in popularity, as it allows a wider range of printed and coating effects for increased product differentiation.
Drying Systems
Inline flexo is beneficial for fast water-based printing because a longer web path between printing stations is possible, resulting in cleaner colour printing. The Flexo Innovator's drying systems offer efficient fast air flow and high velocity rather than temperature. At TRESU, we have converted gravure and direct-reverse gravure jobs to flexo within fifteen minutes, thanks in part to the performance of the drying and curing systems.
Additional UV-flexo units for adding a high gloss or matte varnish, for high-end packaging, not only provide reflectivity, but can create a velvet 'soft touch' effect. Using both varnish types in combination provides a contrast to make specific features stand out. UV-curing in these situations is a productive alternative to water-based inks that may require excessive ink coverage.
Stable printing with coating at maximum speeds
One of the strongest advantages of inline flexo is speed, which is significantly faster than sheet-fed offset. Speed optimisation depends on an automated and enclosed ink supply and servo drives, sleeve systems that eliminate bouncing, automated register controls, tightly regulated web tension and efficient drying systems. These features can be included in the latest presses, ensuring stability and quality consistency, at up to 600m/min, and sometimes even 800m/min.
The press manufacturer will look carefully at the converter's job mix so that the optimum press configuration can be devised. The right choice offers a return on investment that should continue for 20 years or more.
By Allan Sander, vice-president, TRESU Solutions