Title:
Elopak-Fastiv improves flexo print quality and uptime with TRESU FlexiPrint chamber doctor blade systems
Main Image: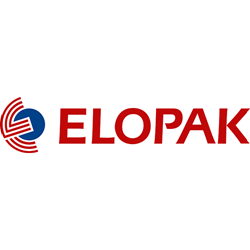 Short text:
Elopak-Fastiv, Pryvatne AT, a subsidiary of the global paperboard converter Elopak AS, has improved performance at its Fastiv, Ukraine, facility by investing in eight TRESU FlexiPrint chamber doctor blade systems for its Evers flexo press.
Long text:
Six TRESU chamber units were installed on all colour stations of the stack formation printing and converting machine, which produces board casing for milk cartons, and includes cutting and creasing processes. Two additional chamber units were purchased by Elopak-Fastiv to allow for very fast job changes, when special colours or coatings are required.
Completed in August 2017, the installation has resulted in improved uptime, consumable cost savings and higher output on the Evers press.
TRESU FlexiPrint chamber doctor blade units supply the correct quantities of ink to each colour station. Foaming and splashing are prevented, while precise positioning of the doctor blades and TRESU's patented air-tight seals prevent ink from leaking on to the anilox roll. Consistent, uniform ink coverage across the web is possible at speeds of up to 210m/min.
Elopak-Fastiv's press has a width of 1200mm; TRESU FlexiPrint chamber doctor blade systems are available for printing widths of up to 2000mm. While Elopak-Fastiv uses solvent flexo inks, the system can also be used with UV and water-based inks.
An important time-saving and quality-enhancing feature of the FlexiPrint chamber is its simple loading system, designed by TRESU. The chamber is held in place by two brackets, which were mounted in a permanent position on to the side frame of the press by a TRESU technician. To load, the operator slides the chamber into the brackets and locks it into position by tightening two positioning bolts. The chamber is secured in exactly the same position throughout all printing runs, with no calibration or human input required.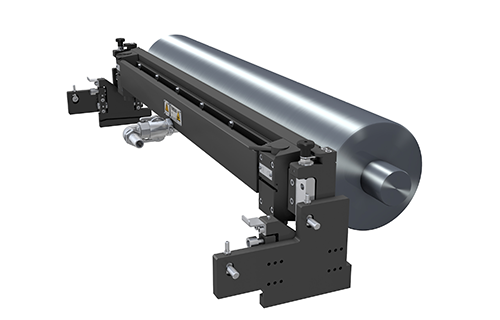 The benefits of the FlexiPrint chamber doctor blade system, resulting from its ease of use, were immediately evident. Yuriy Sharovara, process engineer, Elopak-Fastiv, comments: "Thanks to the TRESU FlexiPrint chambers, machine downtime on the Evers press has been reduced by half. Previously, the chambers required complex calibration, both horizontally and vertically. Setup times were lengthy, with an experienced operator taking about 20 minutes to adjust a chamber, and print results varied because identical positioning was difficult to achieve from one job to the next.
"Now, because of TRESU's individually designed loading system, this process takes only about 30 seconds, even with an inexperienced operator. We have also minimised manual input and as a result we are experiencing improved quality consistency."
The FlexiPrint chamber doctor blade has been precisely positioned, so that contact with the anilox roll is minimised, leading to a major reduction of wear on the rolls.
Sharovara continues: "The installations have also led to improved job satisfaction among our operators, who can now spend their time on value-added work, instead of adjusting chambers or dealing with unscheduled stops."This has been a well-executed project, and delivered excellent results quickly," Sharovara concluded. "The FlexiPrint chamber doctor blade system has revitalised our press, saved our operators unproductive work, and been cost-effective for us – as well as for our customers who are receiving better products."
Oleksandr Gornitskiy, managing director of Wasberger Ltd, TRESU's agent in the Ukraine, sees other opportunities for packaging printers in the region to benefit from FlexiPrint: "The addition of a chamber doctor blade system can help companies extend the life of their presses, while modernising their technology," he said.

"The process efficiencies achieved with the FlexiPrint chamber doctor blade system, and other TRESU ancillaries, can provide a vital competitive edge to those companies that invest." For more information about the TRESU FlexiPrint chamber doctor blade go to this link.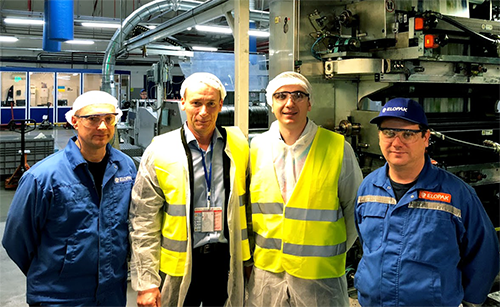 From left: Yuriy Sharovara, Process Engineer, Elopak-Fastiv, Steen Rasmussen, Area Sales
Manager, TRESU Group, Oleksandr Gornitskiy Managing Director, Wasberger Ltd, TRESU's
agent in the Ukraine and Andriy Rudak, Senior Mechanical Engineer, Elopak-Fastiv