Title:
Creating an optimum coating solution for digital folding cartons
Main Image: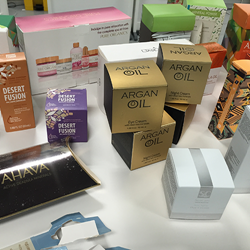 Short text:
Advances in digital printing technology mean that there are now a number of presses that are fully capable of the quality, speed and substrate handling, required by leading folding carton converters.
Long text:
The arguments for investing in digital folding carton production are also compelling. Demands for shorter runs, faster turnaround, and savings on logistics and warehousing mean that all folding carton converters should be actively investigating adding a digital capability.

Digital print quality has ceased to be an issue, and accurate colour – even for special corporate and brand colours – can be reliably and consistently achieved. The ability to match and integrate digitally printed materials with those printed conventionally is a further benefit. Additionally, the ability to respond effectively to late production instructions, last minute text and design changes and to cutting waste and lowering the environmental footprint are yet more persuasive reasons for investing in digital.

The whole picture
To replicate the quality associated with conventional processes and offer the flexibility of short lead times and control costs also, a digital folding carton workflow must offer printing and coating in a single pass.

Digital technologies offer unparalleled flexibility and versatility with the ability to quickly and easily switch between jobs, so an in-line coating solution needs to be able to respond accordingly. To provide the level of acceptable performance, a coater for digital print needs to provide pre-treatment, flood, spot and fine line coating and effective drying of substrates ranging from 180g/m2 to 500g/m2 (121.6lb to 337.8lb) at full press speeds (c. 5,000 sheets per hour). An ability to handle both water-based and UV-curable varnishes is a further advantage. And, of course, the register must be spot on.
Using a modular approach, an in-line coating solution for digital carton presses can deliver all of these things.
Beginning with the coating unit, the use of a simple three cylinder solution facilitates high speed operation. With the anilox, printing plate and impression cylinder all using sleeve technology, changes can be made extremely quickly: less than a minute to change the print cylinder, and less than five to change all three. This ensures maximum productive press time which can improve profitability and competitiveness.
Using sleeves has advantages beyond quick changes. Being a sleeve means that there is no gap on the cylinder, and no need for gripping mechanisms that can malfunction or collect dirt. However, the biggest factor is that sleeves roll smoothly and won't develop cylinder bounce which can limit running speeds and cause mis-registration.

One problem that can arise regardless of whether a plate or a sleeve is used is a bump caused by the cylinder first touching the plate. Systems that have a small recesses in the plate sleeve that virtually eliminates this phenomenon, enabling precise registration at speed – and perfect registration is essential.

Since digital presses generate little or no start-up waste, printing extra sheets cuts into margins, so finding a system that can achieve register quickly is an important consideration. Generally speaking, the simpler the system, the better; coaters using mechanical alignment are accurate and reliable. They are easily set and don't require tweaking or monitoring during the run.

Adding value and calculating cost
Apart from adding protection to cartons, matt, gloss and spot varnishes add value. This is even more true of digital packaging which can add value when used for limited and special editions, or employ variable data printing for track and trace, security, localisation or personalisation. Applications including luxury goods, cosmetics, chocolates, and food and drink all have their perceived value enhanced with creative coating and varnishing.
An ability to "double coat" in a single pass, using both matt and gloss varnishes to create a highly distinctive look and feel, is a powerful capability, especially when used in high value applications such as those mentioned. Today's single and twin coating systems allow you to achieve an identical 'look and feel' quality in digital, to that which is possible in offset.

When discussing digital folding carton printing and its enhancements, the subject of cost usually arises. While digital printing is now benefitting from economies of scale, old perceptions, usually focused on unit-cost, still inhibit its adoption.But the old paradigm of unit-cost no longer applies: when thinking digitally, it is the total end-to-end cost that matters. Printing only what you want, when (and often where) you want it, and getting it to market quickly is what digital printing is about, and using this technology in tandem with an integrated coating solution is now possible.