Title:
Chambered doctor blades: essential components in a productive flexo workflow
Main Image: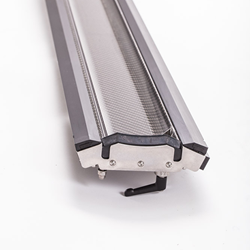 Short text:
Henrik Kristensen, Vice-President, TRESU Ancillary
Enclosed chamber systems are available for virtually all flexo printing situations, from narrow-web to corrugated printing, and are retrofittable, extending the life and performance of your press.

Long text:
The introduction of the enclosed or 'chamber' doctor blade, generally a standard feature of new flexo presses today, was a landmark in flexo performance. They make it possible to achieve a uniform, unblemished ink transfer at higher speeds. Furthermore, they form an essential part of a lean manufacturing workflow, reducing ink consumption, manual intervention and setup times. As a prevention against leakage and emission of volatile organic compounds, they enable environmental compliance and safe, clean working conditions.
Creating the closed-loop system that allows flow control and prevents leakage depends on correct positioning of the blade, secure sealing of the chamber walls and a supply system.
In an enclosed system with twin blades, the blades are set apart at a specific distance and angle. The reverse-angle blade meters the ink, while the trailing blade keeps the ink in the chamber. Positioning is crucial, not only to prevent air entering and ink escaping, but to prevent wear of the blade. Precise positioning the blade by the ancillary provider at the optimum angle, at the anilox roller, minimises blade wear, reducing maintenance costs. An essential feature is safe, fast blade exchange. A clamp allows the slotting of doctor blades into position, and easy release, keeping changeover times as low as one minute.

A seal system forms a perfect airtight closure and stops ink leakage from between the anilox roll and the chamber. Constant pressure is maintained throughout the printing run by the ink supply system, regulating the circulation of ink from bucket to the chamber and returning it after production. Stable circulation keeps the ink at constant viscosity to ensure stable ink density on the printed substrate. Flow is maintained at a constant rate in response to the rotating anilox roll's sucking effect. The operator raises the pressure so a wall of ink is formed at the point where the rotating cells meet the blade. This wall stops air bubbles from entering, thus preventing the foaming that can result in blistered print effects.

Doctor blade systems are adapted according to the print width and ink / coating volume required. For paper, folding carton and flexible packaging, an ink volume of between 1.35 and 2.2 litres/m. is advised, suited for anilox diameters between 64 and 250 mmm web widths up to 6000mm. For web widths up to approx. 800mm, a closed cassette version is ideal for where different print processes can be interchanged. Such a system contains ink volumes from 0.2 litres.

For wider web applications especially, lightweight carbon fibre chamber doctor blade systems offer the corrosion resistance necessary to withstand alkaline and acidic cleaning fluids and inks, and light weight for easy handling. Chamber weights vary between 2.4kg and 4.1kg per linear metre (approx. 1.6 lb – 2.74 lb per linear foot). The carbon fibre chamber's top-coated ink-repellent surface facilitates efficient, thorough cleaning after job completion. Furthermore, inner surfaces are curved to maximise volume and accelerate discharge.
The latest chamber innovation for wide-web and corrugated printing is an 'all-in-one' concept, comprising a chamber doctor blade, inking system and integrated cleaning system, keeping handling and ink loss to a minimum. Available in widths from 1600mm to 6000mm, the chamber features an integrated cleaning nozzle with a robustly designed low-pressure water-shot mechanism, to ensure efficient cleaning of the chamber and anilox roll in a short time. The chamber offers fast emptying performance because the ink or coating fluid is evacuated through both the chamber's inlet and outlet
Controlled ink supply featuring a chambered doctor blade combined with inking system, brings a host of benefits. It enables consistent ink density, blister-free reproduction, higher gloss values and thus improved reflection. It brings reduced running costs, through lower ink loss and efficient drying. Setup times are reduced because ink-change cycles are a matter of minutes. Automatic regulation means operators are free to focus on higher value tasks. Throughput is improved, with uncontaminated speeds of up to 600 m/min (approx. 1970ft/min) possible.
In conclusion, controlling ink, in an environment where the ink is closed from the atmosphere, delivers predictable quality, better productivity with reduced setup times, assurance of a solvent-free working environment, higher ink yields, longer ink life and lower maintenance costs.