TRESU L30i
The unique concept based on TRESU Ancillary's flexo technology, and the self-regulating concept comprises the UniPrint Combi chamber doctor blade E-line, the Coating Circulator, and a Coating Conditioner.

The circulator automatically adjusts to the coating supply and initiates optional cleaning pro-grams and by means of a sensor to measure coating pressure and press speeds at the doctor blade, the circulator also regulates coating consumption.
And finally, temperature regulation for UV coatings is achieved with the new Coating Conditioners, which feature an automatic re-filling system to maintain coating quantity and fixed tem-peratures. Overall, the system enables sheet-fed and web off-set printers to coat printed products at faster speeds, without the risk of micro-foaming and blisters in the coated surface.
For Aqueous and UV-coatings in separated circuits:
- L30i Combi for Aqueous and UV-coatings

TRESU Combi Technology
- Flow operations for standard coatings
- New pressure control technology for foam elimination of sensitive coatings

Automatic cleaning programs

Automatic detergent dosing

Compact and space saving

Easy operation from remote colour screen touch panel

DOWNLOAD BROCHURE ANIMATION
L30i coating circulator Pressure Control Technology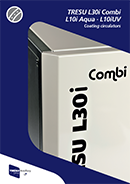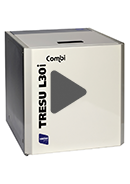 TECHNICAL SPECIFICATIONS

DIMENSIONS

H610 x W560 x D670 mm

WEIGHT

40 kg

AIR SUPPLY

Min. 6 bar- max. 10 bar, clean and dry

AIR CONSUMPTION

60 L/min

WATER SUPPLY

Max. 1 - min. 0,2 mPa

WATER CONSUMPTION

10 - 27 L/Wash

VOLTAGE

100 - 240 VAC / 50 - 60 Hz

CLEANING TIME INTENSIVE WASH

12 min

CLEANING TIME QUICK WASH

6 min

WATER- OR UV-CLEANING CONSUMPTION

1 - 2 L/Wash and 10 - 27 L/Aqueous wash

COATING TYPE

Aqueous and/or UV-coating

ALARM SYSTEM

Standard

HIGH LEVEL SENSOR

Standard

SENSOR CHAMBER CLOSED

Option

LEVEL SENSOR COATING TANK

Option