Title
New TRESU Flexo Democenter
Main Image: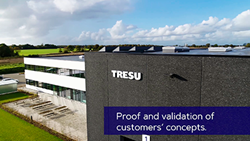 Long text:
Get proof and validation.
We are happy to announce, that we have now opened our new TRESU Democenter. The Democenter is located next to our in-house laboratories, test facilities and production areas in order to offer our customers as many valuable synergies as possible.
We continuously optimize and test new edges of our HD flexo printing technology and in our new TRESU Democenter we simulate, test and improve customers' production setup using their individual substrates and inks or coatings.
Upon agreement customers can ship us their materials and we can proof and validate their ink, coatings and substrates - right from thin cigarette paper to heavy board or plastic foils – on our flexo printing technology in order to proof and validate customers' concepts.
We can also rebuild the demo line to test any requested component or production in a real-life environment. This saves customers the installation- and downtime for testing purposes, while providing valuable knowledge and new insights.
Located close to an international airport customers are welcome to join us for these tests – and we are happy to offer a virtual live 1:1 validation, if a physical travel is not possible.
Contact sales@tresu.com for further information.