Title:
COVID-19: Technical Hotline open 24/7
Main Image: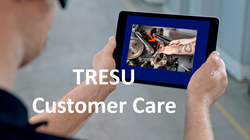 Long text:
Along with the safety and health of our employees, the delivery of services to our customers remain a top priority and we are fully aware of the importance of providing our services and keeping equipment and machines in essential businesses up running in a time like this.
We are closed for visits and are due to the situation around COVID-19 only travelling inside the US, but we remain open for contact by mail, phone or virtual online meetings. In urgent matters when you need technical troubleshooting: Contact our Technical Hotline 24/7 - we are ready.
PRINTING MACHINES / ANCILLARIES:
- Europe and RoW: +45 7027 0029
- US (Innovator): +1 833 873 7887
- US (Chillers & ancillaries): +1 866 873 7887
Mail: service@tresu.com
DIGITAL PRINTING / COATING:
- Global: +45 7022 9935
Mail: service.digital@tresu.com
In a situation like this we endeavor any possible way of supporting you in real time and are right now exploring new steps to provide online remote service to you. Our service technicians are experienced experts with +15 years of experience within the field of printing and they will be happy to recommend efficient solutions.
Contact us for information on remote management services: service@tresu.com