Title:
Value-adding coating solutions from TRESU increase consumer-appeal
Main Image: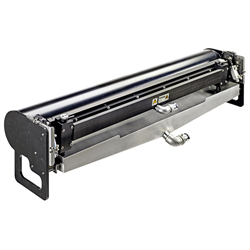 Short text:
For commercial or packaging offset printers, finishing techniques add value, protect graphics or packaging and make products or messages stand out, providing additional differentiation and consumer appeal.
Long text:
New UV and water-based coatings have been developed to create an exciting range of effects, enabling creative and exciting designs that are tactile as well as visually enticing. Innovations in flexo ink supply enable these features to be applied efficiently in a single pass at speeds of up to 18,000 sheets per hour.
Perhaps the most common aesthetic effect associated with coating is a full gloss or matte cover, applied by a flexo process after offset printing. UV coatings are increasingly preferred as they provide gloss values that can be 10 to 15 points higher than those offered by conventional alternatives. With two coating units, stunning effects can be created using a combination of matt and gloss varnishes.
Metal-pigment silver and gold inks are used to create innumerable metallic tones on folding carton packaging or high-quality brochures and magazines. Their intensity results in a high brilliance even when only a thin layer is applied. These inks are available in UV or conventional varieties and may be applied before or after the printing processes.
Glitter-effect and iriodin high-lustre pearl inks produce sparkling reflections that deliver brilliance, bringing and vibrancy to high-quality commercial and folding carton products.
It's not only the eyes that can be tempted: scented coatings provide a powerful promotional tool for fragrances, foods and beverages. Micro-encapsulated scents are released when the surface is rubbed providing a unique enhancement.

Flexo – the solution for functionality
The flexo process provides the optimum solution for applying coating over offset-printed graphics. Flexo coating media have the chemistry that enable fast air drying or curing at higher speed higher glossiness. Furthermore, a flexo system can apply thick, consistently accurate and uniform layer of coverage, which is critical to functionality – avoiding scratches and yellowing.
Flexographic technologies from TRESU Group offer complete inline coating concepts and solutions – from ink/coating management and application to drying and waste reduction with high levels of automation – to enable traditional printers and converters to offer customers the latest competitive solutions for adding value and building brand appeal:
Customised coating units for offset presses up to 2000mm wide. They can be retrofitted on existing presses with TRESU supervision, or specified with new machines.
Coating circulators and conditioners, covering all water-based and UV-curable coating applications, specifically designed for the viscosity, desired sensual effect and coating chemistry. Fast automatic cleaning and refilling are standard. Dual coating units are available.
Sealed chamber doctor blades with TRESU's own Pressure Control Technology ensure clean, consistent varnish laydown at top speeds, with no leakage or air-contamination.
With 40 years of experience in flexo technology and a global network, TRESU provides full support - empowering offset printers exploit the full creative potential of coating media, for eye-catching designs and strong branding.
For more information, contact your TRESU representative or download our coating solutions brochure.