Title:
TRESU Flexo Innovator press for the folding carton packaging market to be represented in Poland by GRAW
Main Image: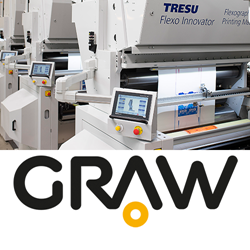 Short text:
TRESU Group is pleased to announce that its Flexo Innovator printing machine for folding carton packaging will be represented in Poland by GRAW in an extended distribution agreement.


Long text:
GRAW has represented TRESU products, including its chamber doctor blade and intelligent ink supply systems, for a number of years. The company has added a new machinery sales department to handle representation of the TRESU Flexo Innovator.
Capable of speeds up to 800m/min, TRESU Flexo Innovator press can include diverse value-adding processes, such as double-sided printing, rotogravure, inkjet, cold foil lamination and converting. It can integrate water-based, solvent and UV-curable inks and is available in printing widths between 670mm and 1700mm. Applications include folding carton board, paper, laminates and metallic substrates. The Flexo Innovator includes many features that reduce waste, energy usage and emissions. Among these are the recycling of air used by the
drying units, safe heat extraction and energy recycling via chilling systems and automated control of ink flow
by TRESU's F10 iCon ink supply system.
"This is an exciting development for both companies and we are very happy to expand our cooperation
with GRAW which has proven its capabilities in the region," said Ronni Nielsen, area sales manager,
TRESU Solutions.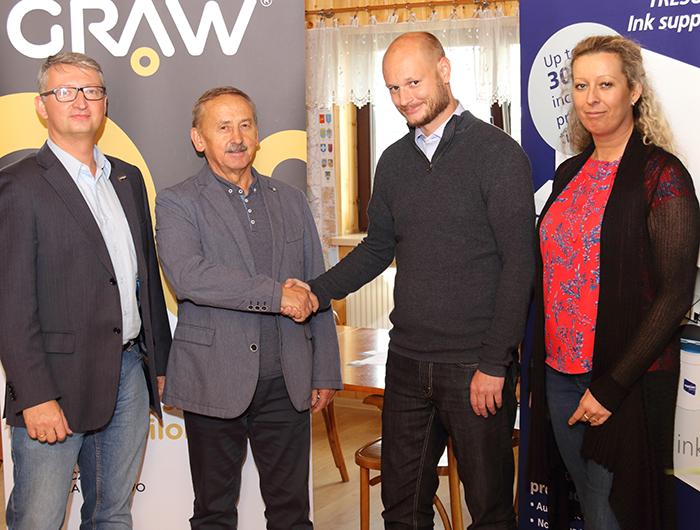 Pictured left to right: Michał Brendzel, Sales Manager GRAW; Marek Wielemborek, Owner GRAW;
Ronni Nielsen, Area Sales Manager TRESU Solutions; Agnieszka Głowacka, Machinery Sales Manager GRAW.