Title:
TRESU E-Line Chamber and Flexo Concepts TruPoint Orange are now ready for the narrow web printing presses
Main Image: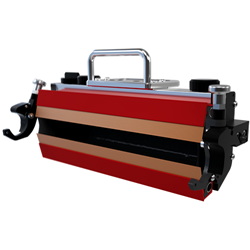 Short text:
TRESU Group will be showcasing TruPoint Orange doctor blades on the new E-line clamping system at LabelExpo Americas 2018. The E-Line TRESU Chamber Doctor Blade System with the patented TRESU Doctor Blade Quick Change System
Long text:
The fixing of blades is carried out by an eccentric clamping mechanism which allows de-mounting of the blade holders and blades in just a few seconds. Re-assembly with new blades is just as fast and easy. The properties of the TruPoint Orange blade material and the patented TRESU E-Line eccentric blade changes is eliminates risk of injury when installing and removing doctor blades from the press. Visit TRESU Group at stand #1308 to learn more or read more here.
Watch the video showing how easy blade change - click on the picture below.