Title:
Inline flexo: a cost-effective alternative to gravure
Main Image: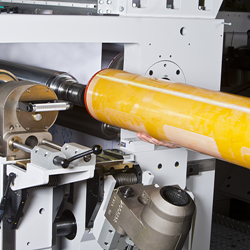 Short text:
by Allan Sander, vice-president, TRESU Solutions

Less than a generation ago, the suggestion that converters should consider moving from gravure to flexo would have been highly unusual. In fact, many far-sighted and cost-conscious converters dared to do that, pushing limits of every aspect of flexographic printing from plate making, press and register controls, automatic web inspection, and advanced finishing.
Long text:
Today, as they say, it's a whole new ball game. There have been major advances in plate materials and processing, faster mounting systems, more advanced press controls and inspection systems, new approaches to inking, and innovative concepts in press design. Each of these brings benefits to quality, efficiency, cost-effectiveness, and waste and energy reduction.
Three other important changes have influenced today's packaging converting markets: the huge growth of big brands; the almost equally large growth of "own brands", and the consequent changes in the overall dynamics of world economies. Legislation regarding the information required on packaging about ingredients, origins, nutritional values as well as environmental compliance have also impacted the packaging market. Variations in national and regional laws have played a significant part in the need for shorter run-lengths.
The combination of these factors has resulted in a transformation in the way that packaging is ordered, printed and distributed. The sum of these technical, environmental and economical elements has shifted the viabilities of printing processes. Flexo has emerged as the printing process that delivers more than ever before with high-quality standards, production speeds, and cost-effectiveness. Moreover, inline flexo presses have demonstrated the ability to handle jobs formerly printed with gravure presses using water-based inks and coatings on a wide range of substrates.
Meeting new demands from end to end
TRESU's Flexo Innovator is an inline press available in widths from 670-1700mm that can operate at speeds of 600m/minute minute or optionally higher, compared to typical gravure press speeds of 200-300m/minute. These high speeds are in part possible because of unit-to-unit drying (or curing, if using UV inks). Because of its line formation, double-sided printing is easily possible without using a turn bar.
Prepress for inline flexo solutions like the Flexo Innovator is faster and less expensive than gravure cylinder engraving, and does not produce hazardous waste. These are key advantages when handling shorter as well as long runs. Flexo plate preparation is cost-effective for packaging converters with web presses to bring in-house, while gravure imaging is most often out-sourced, with demanding investment, logistical and time implications.
Use of sleeve technology for both printing plates and anilox rolls accelerates job change-overs and greatly reduces waste in achieving register. With the added aid of automated controls, start-up waste with inline flexo is limited to about the web length of the press. The combination of higher speeds and faster job changes results in higher productivity. Also contributing to the efficiency are faster and easier cleaning and maintenance made possible by the high level of accessibility of the press units that inline flexo uniquely offers. The enclosed chamber doctor blade and inking system with automatic ink recirculation has automatic cleaning of the chambers, doctor blades and anilox rolls.
TRESU's F10 iCon ink supply system adjusts ink flow automatically, controlling pH, pressure, viscosity and temperature. The sealed chambers prevent ink from becoming contaminated so excess ink can be safely returned to containers for future use. This closed ink loop also means that there is less evaporation, as well as a more pleasant, presentable press room environment. Leakage and emissions are also prevented, while an efficient clamping system enables doctor blade changes in less than two minutes. The pressure control prevents micro-foaming at high speeds and its consequential impact on print quality. While an important feature of the Flexo Innovator, the F10 iCon ink system can also be specified or retrofitted to other press types.
Understanding the whole concept
While each of the features of the Flexo Innovator makes its own contribution to quality, efficiency, and waste-saving, the power of the concept is further enriched by its ability to integrate added-value inline finishing operations.
For packaging converters required to produce shorter runs to tight budgets and deadlines, the integration of as many print enhancements or finishing processes as possible contributes to profit margins, throughput and reduced time-to-market.
For example, the addition of metallic effect inks that resemble foils, and protective or enhancing coatings in a single pass, can be a strong competitive advantage. Inks and coatings of different sets and viscosities (water-based, UV curable and solvent) can be accommodated by the inking systems and optimal drying/curing equipment placed after each unit, for dry unit-to-unit printing.
Lean, green technology
The automation and efficiency of the inline press enables lean and sustainable production. In addition to ink savings and reduced start-up waste, air from the drying units is recycled via a heat exchange module and returned at the desired temperature and humidity levels. Similarly, heat can be extracted from chilling units for recycling.
The Flexo Innovator can be readily extended for additional colours, special coatings, double-sided printing, or finishing processes. For example, a gravure module for coating may be added for special applications, or an inkjet system for coding and marking. The press configurations maybe roll-to-roll, roll-to-sheet, roll-to-plate cutter or roll-to-rotating die cutting Printing units not in use during a run can be prepared for the next job because of the easy access possible with ground-level units.With in-built "green" technology features, the Flexo Innovator can help brand-owners as well as packaging converters meet their companies' environmental objectives.
Flexo Innovator presses can be built to meet individual customer requirements in mid or wide web widths, and with repeat lengths up to 1060mm for maximum application flexibility. TRESU's training for operators and maintenance crews is comprehensive and thorough, while its worldwide network of support engineers will help to ensure optimal performance and maximum uptime.
It's a different world to that of a generation ago. Markets, technologies, and economies have changed, and the quest for quality intensified. Responding profitably to today's demands requires a new approach: inline flexo with its advanced systems offers a powerful, competitive and sustainable solution for today, and tomorrow.