Title:
Greetings from Labelexpo India 2018 with the new SAVEink chamber running at 4 colour printing machine
Main Image: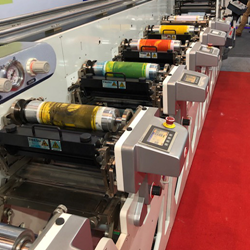 Short text:
Visitors to Labelexpo India will be able to experience the TRESU SAVEink chamber doctor blade installed on a press at the Alliance Printech PVT stand (F21).
Long text:
A highlight of the TRESU stand (stand M23) will be the new TRESU FlexiPrint Reservoir SAVEink chamber doctor blade for narrow web flexo applications
up to 800mm wide. With an integrated high-capacity reservoir, the TRESU SAVEink chamber doctor blade is ideal for process and spot colours as
well as high ink transfer printing, without the need for a connected pump. TRESU SAVEink is suitable for long and short run production; ink may be added to the reservoir without stopping the press.
The TRESU SAVEink chamber is sealed and locks into place in seconds without the risk of spilling or ink contamination. Its doctor blades are in fixed, pre-set positions and require no further adjustment: optimal contact is made with the anilox roll, minimising wear.
TRESU's chamber programme is available for all web widths from 185mm to 6000mm and includes light-weight, corrosion-resistant carbon fibre and ceramic variants. Using the company's unique "Pressure Control Technology", the chambers eliminate air contamination and microfoaming, to ensure clean, uniform print on the substrate. Suitable applications include labels, flexible packaging, and paperboard printing and coating. Chamber blades may be supplied with new presses and retrofitted on existing ones.